Blog
How to Use a VPN to Protect Your Internet Privacy?
How to Use a VPN to Protect Your Internet Privacy?
How-to Guide· 4 minutes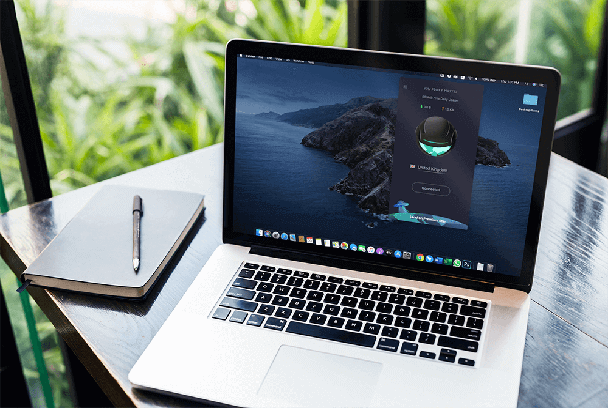 A virtual private network or VPN is the safest way to connect to another network over the internet. Origins of VPNs date back to 1996 when an employee of Microsoft created PPTP. He developed peer-to-peer tunneling or PPTP to make a secure connection between private computers.
Although only businesses used PPTP at that time, due to multiple security breaches and growing cyber-attacks, people realized the need for a private network.
This is where VPN services took off in the internet market. Users became more aware of their data and started using VPN services. Today, VPN services are essential for a private network. VPNs can prevent malware attacks, secure internet connection, and you can use geo-restricted apps and websites.
How do VPNs Work?
A virtual private network, as its name suggests makes a virtual fake route for you to connect to remote sites. Whether you want to access the office network from home, use public Wi-Fi, or just surf the internet, VPN encrypts your network and creates a virtual route to fake your real identity. Almost all VPNs come with built-in protocol encryptions like HTTPS, NNTPS, and SSH. However, by using a VPN, you increase your security twice.
Why Should I Use VPN?
Internet privacy is the first thing that comes to everyone's mind while surfing the web. Is my data safe? Is someone spying on me? Is someone collecting my information? Why this app is restricted here? These are some common questions but trust me there is more to this. Read on to know why should you use VPNs.
Use geo-restricted apps and websites
You have probably come across some apps or websites that you are not able to use. This is because: these apps or websites are geo-blocked in your country or in a specific area. This is where virtual private networks come in handy. VPNs can fake your location and you can easily use geo-restricted apps.
Hide your activity from ISP
Your Internet Service Provider or ISP has total control over your internet activity. You might find that surveillance annoying. You can stop your ISP from tracking you by using a VPN.
Avoid restrictions in particular places
We all face this common problem. No matter if it is our school, college, or office, we don't have access to a few websites or apps. For example, social networking platforms like Twitter, Facebook, YouTube, etc. are blocked. However, there is no need to worry. You can use a VPN service to unlock all the website content you want to see.
Torrenting
More and more ISPs are blocking you to access torrent sites nowadays. Most of us use torrent sites to download content that is not available for free. It does not sound legal and it is not but we do it anyway.
Therefore, if your ISP blocked you from accessing torrents, then VPNs can be of help.
Use public Wi-Fi without worrying
Everyone loves free Wi-Fi. However, with free internet, cyber-attacks come bundled. We connect to these hotspots in cafés, airports, and other public places without hesitation. Moreover, your login details and other stuff can be easily hacked on public Wi-Fi. This is where a VPN comes in handy as a firewall so you can enjoy free Wi-Fi.
That sums it up. These are some major reasons why you should use a VPN. VPN is like internet security nowadays. Its use is growing rapidly and you should defiantly use one.
How to Use a VPN to Privatize My Network?
Using a VPN is not rocket science. In addition, it is legal to use in most countries although some of them allow you to use VPNs with limited access to the features. Let me explain step by step how you can start using a VPN tool now:
To secure your network, you will need a good VPN service. With the growing demand for VPNs, there are a good number of VPN services available in the market. So choose one that fits your needs. Here is a recommended VPN to make your choice easier:
VPN Proxy Master: VPN Proxy Master is a free VPN that includes unlimited bandwidth and gives you a faster, secure, and easy-to-use experience without you worrying about protecting your identity. It is the best-unlimited VPN that allows you to unblock blocked websites and applications, hide your online activities and secure your device.
Also, with VPNs, you can enjoy unlimited server switching i.e. you can switch servers as many times as you want for no additional costs. Also, VPNs will give you an uninterrupted video streaming experience with zero buffering.
If you are new and want to secure your network, then you can go for this easiest VPN ever which will only require you to download, install and start protecting your activities with just one button.
In today's cyber world, internet privacy is the first thing we all need to worry about. Countless malware and hacking attempts are there and many of us are victims of those. It is high time that we learn lessons from these incidents and shows more concern for internet privacy.