Blog
How to Connect Free WiFi Near Me
How to Connect Free WiFi Near Me
How-to Guide· 8 minutes
We all look for free WiFi, whether we're at the airport, a cafe, or just generally out and about. Unsecured public networks are a pot of gold at the end of the rainbow for hackers so it's important to stay safe. And here's how!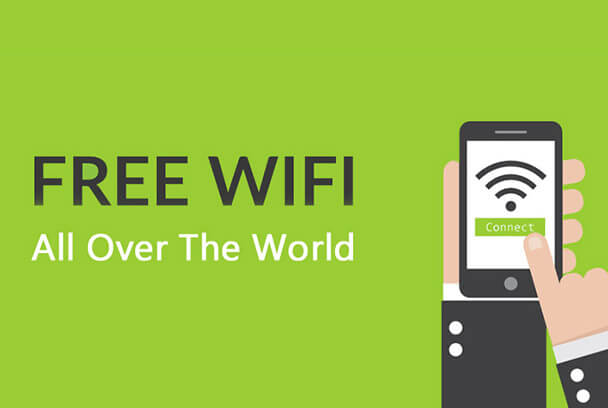 1. Find somewhere with a public WiFi hotspot.
If you've run out of data and you're looking for a free internet connection, choose one from a well-known public place, one which offers WiFi hotspots. Practically everywhere has a free internet connection for you to connect to, restaurants, retail stores, coffee shops, supermarkets, and many more!
There are even some cities that offer free WiFi throughout the old towns where tourists like to visit. If you're traveling to either Paris, New York, or Barcelona then you shouldn't have a problem finding a network to connect to. It's always a great idea to do plenty of research before you go.
To give you an idea here are a few places where you can get free WiFi quite easily!
Most public libraries offer free WiFi hotspots for all visitors, Some even provide you with a workspace where you can sit and work there comfortably with your computer.
Buses and trains have certainly gone up in the world, most of them are now equipped with wireless networks. Unfortunately a lot of them set data limits. This is so people who want to stream can't as it will leave everyone else with low bandwidth.
Gyms - practically all gyms offer free internet nowadays, a lot of gyms now have cafes inside them meaning you can sit and enjoy a snack while connected to the WiFi.
Colleges and universities. Places like these are always full of crowds so none will blink an eye if you connect to the free WiFi. If it has a password I'm sure the students will have no problem sharing it with you.
2. It's simple! Turn your phone into a hotspot.
It can be that sometimes we aren't in a popular public place. If there are no cafes or shops around what do you do? Have a look at your phone to see if you have either a 3G or 4G connection, if you do then great! Just turn your phone into a hotspot. You most likely won't be able to stream HD movies but you will definitely be able to do some research or send emails.
TURNING YOUR PHONE INTO A WIFI HOTSPOT - ANDROID USERS
1. Firstly open your settings
2. Select wireless and networks
3. Then select tethering and portable hotspot
4. You will then see a portable WiFi hotspot, tap on it.
5. You will need to set up a strong password followed by sliding the bar across to turn it on.
IOS USERS
2. Select personal hotspot
3. Enter a strong password and slide the bar to the right to allow others to join
USE WIFI APPS
Nowadays there are apps for absolutely everything including one to find free WiFi, here are just a few recommendations.
WIFI MAP
This app is one of the most popular apps there is. The wonderful thing about this particular app is that it contains a map with over 100 million WiFi hotspots as well as the log-in credentials too, because this app is also crowdsourced most of the networks if not the majority, are tried and tested.
SOME OF THE FEATURES
it will provide you with WiFi passwords even when you're not online
it's available on both Android and on iOS
INSTABRIDGE
Is another one of the crowdsourced apps that has a map with roughly just over one million free public WiFi networks. As well as including log-in credentials it also includes an auto-connect function. So whenever you are close to one of the hotspots listed on the app, your device will automatically connect.
FEATURES
Available for Android and iOS
supports WEP, WPA, WPA2, and WPA3
speed, popularity, and data stats
SWIFT WIFI
If you have an Android and you are looking for free WiFi, Swift WiFi could help. It will provide you with a list of nearby hotspots, plus it also keeps you away from ones that aren't secure. You can set it to turn your WiFi on/off depending on the circumstances, view the speed of the network that they are connected to plus you can even share a hotspot with your friends
FEATURES
it's available in 35 + languages across 223 different countries and regions
protects users from insecure networks
FREE WIFI APP
Wondering how you get free WiFi on your device? Download Free WiFi app, it offers more than 120 million hotspots in 150 countries across the world. It's really easy to navigate and you can even leave hotspot reviews. If you are unsure whether it's worth installing or not, you can walk to a nearby cafe and connect to their WiFi to look at the reviews.
FEATURES
offline maps functionality
5 million hotspots in the USA
It's also possible to get free WiFi at home as some of these apps may provide you with hotspots in your area. Sometimes however the signal can be extremely weak or the actual owner could change the password at any given time.
PURCHASE A PORTABLE ROUTER
A portable router is basically just the same as your router at home, obviously, it doesn't require a cable though, instead, it operates on either 3G or 4G. These particular routers are rather small and not expensive at all. This doesn't mean that you should go for the cheapest option though as there's a good chance it will be very slow!
It's much better to have your own router rather than connecting to public hotspots, the battery also last a long time meaning the internet won't unexpectedly turn off, unless of course your somewhere that has bad network coverage.
You are able to hide your WiFi name so that it doesn't appear on the network list. If your network is hidden don't worry you can still find it and connect to it.
WHY IS PUBLIC WIFI SO DANGEROUS
Public WiFi is most certainly a minefield, it's possible that even some of the legitimate providers could be actually looking for ways to take full advantage of your usage. Of course, there are the dreaded hackers too who will stop at nothing to gain access to your information.
FAKE PUBLIC HOTSPOTS
It's possible for you to think that you are connecting to a public WiFi network, however, you might actually be connecting to a fake malicious network that was purposely created by a hacker, if this is the case then a hacker can intercept your device as well as steal all of your sensitive information. They are even capable of installing malware on your device.
HACKING THREATS
It's common knowledge that your device is less secure when you connect to a public WiFi network, hackers are most likely already standing by ready to catch their next victim and steal your valuable information.
If you choose to set up your phone as a hotspot it's important that you set a very unique password, if you don't then a hacker could quite easily join your network and intercept your device.
VULNERABLE WIFI APPLICATIONS
WiFi apps are certainly not perfect though, they also have loopholes. Hotspots created by hackers could also be listed on these apps, so definitely check feedback and people's opinions on certain networks before you join a network.
Personally, I wouldn't trust WiFi apps 100% because of their auto-connect features you could accidentally connect to a malicious hotspot so it's better if you keep this feature turned off at all times.
PRIVACY CONCERNS
Do you actually have any idea what could be happening while you connect to public WiFi? Whether you are in a shop, a cafe, or an airport these people could possibly be tracking everything you're doing online. They could actually use the data for other purposes too.
There are apps that actually collect a lot of data about you, you completely are exposed as they can gain access to your IP address, your log-in details, your location, your device ID, and more. They could share all of this information with third parties as there's nothing stopping them from doing so. Always read the privacy policies before you agree to them.
Learn all benefits of protecting your privacy with a VPN.
SECURING YOUR PUBLIC WIFI CONNECTIVITY
Everyone knows that connecting to free public WiFi is dangerous, and if you don't know then you should. Absolutely anyone who is capable of intercepting an unprotected connection can steal your log-in details, personal banking details, emails as well as any other sensitive information that they can get their hands on.
I'm not saying that you should avoid public WiFi all together however you should be more vigilant and take extra steps in order to protect yourself.
TURN OFF PUBLIC NETWORK SHARING
Frustrating pop-ups can suddenly appear anytime that you connect to a new network. The most frequent pop-up will probably be the one that's asking you if you should trust that particular network and share your information. Don't be in a rush to accept it, your basically leaving your car keys in the ignition. If you do then any skilled hacker will be able to intercept your connection and gain access to most if not all of the information on your device.
ENABLE YOUR FIREWALL
If you are one of those people who disables their firewalls because of their annoying pop-ups and notifications. Please ensure that you enable it again before you connect to any public WiFi. You will require consent before you can use some of the apps on your phone, however, in return, you will get a robust gateway defense.
USE A VPN
Your best bet to ensure secure public WiFi connectivity at all times is to install a VPN on your device. When you're connected to a public WiFi network while using a VPN your connection is fully encrypted, all of your traffic will be redirected through a secure tunnel so nobody is able to snoop on you.
Your original IP address is hidden, so it's basically impossible for hackers to find you. Also, ISP and websites will be unable to track you.
There are some VPNs that offer additional features such as a kill switch that would cut off your internet connection if your VPN drops, you will be completely protected at all times!