Blog
Get An Extra 3 Months FREE - Celebrating VPN Proxy Master's Anniversary
Get An Extra 3 Months FREE - Celebrating VPN Proxy Master's Anniversary
Updates & Events· 4 minutes
Updates & Events
4 minutes
Join us in celebrating a momentous occasion as VPN Proxy Master marks another year of success and growth. From its humble beginnings, this powerful virtual private network has propelled itself from strength to strength, revolutionizing how we browse the internet securely and anonymously. With an unwavering commitment to providing top-notch online protection, VPN Proxy Master has become the go-to choice for millions of users worldwide.  So, let's come together and celebrate this extraordinary journey of VPN Proxy Master. Buy now to get an extra 3 months FREE!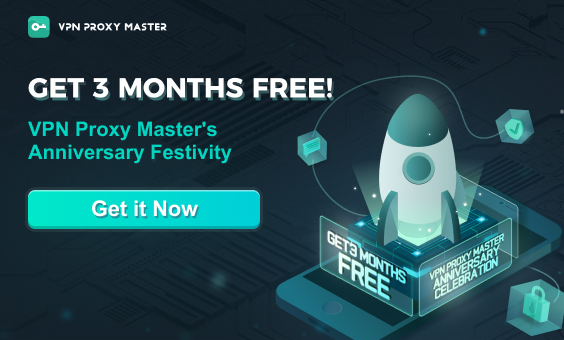 Exclusive Anniversary Promotions and Discounts for Users
VPN Proxy Master's anniversary celebrations wouldn't be complete without treating its loyal users to exclusive promotions and discounts. As a gesture of gratitude, the VPN service offers special deals for users to enjoy premium features at discounted prices. Whether you're a long-time subscriber or considering trying out VPN Proxy Master for the first time, now is the perfect opportunity to take advantage of these limited-time offers.
To make the celebrations even more exciting, VPN Proxy Master offers an extra 3 months for free, with a 62% discount on plans during our anniversary celebration.
So, if you've been waiting for the right time to try a VPN, there's no better moment than a VPN Proxy Master's anniversary. Don't miss out on the incredible discounts and promotions being offered. Join the festivities and join the growing community of VPN Proxy Master users.
Understanding what VPN Proxy Master is
Let's delve into what this virtual private network is about and how it works. VPN Proxy Master is a protective shield; it encrypts your traffic through a tunnel with AES 256-bit encryption and masks your online identity by hiding your IP address. Even if you're connected to public Wi-Fi or using an unsecured network, your sensitive information, such as passwords, credit card details, and browsing history, remains safe from potential hackers or surveillance.
Furthermore, VPN Proxy Master allows you to bypass geo-restrictions and access content that may be blocked or unavailable in your location.
By connecting to a server in a different country, you can appear to be browsing from that location, opening up a world of possibilities regarding streaming services, websites, and online content.
VPN Proxy Master's user-friendly interface and intuitive design make it easily accessible. With just a few clicks, you can connect to your chosen VPN server and enjoy a seamless browsing experience with enhanced security and privacy.
Key Features and Benefits of VPN Proxy Master
Let's explore some key features that have made VPN Proxy Master the preferred choice for millions of individuals and organizations worldwide.
1. Enhanced Security and Privacy
One of the primary reasons people turn to VPN Proxy Master is to protect their online activities from potential threats and prying eyes. By encrypting your internet traffic and masking your IP address, VPN Proxy Master ensures that your personal information remains secure and private, even when connected to unsecured networks.
2. Access worldwide content
VPN Proxy Master allows you to access content unavailable in your region. Whether you want to stream your favorite shows or access websites, VPN Proxy Master opens up a world of possibilities, giving you the freedom to access the internet.
3. Fast and Stable Connections
VPN Proxy Master boasts a vast network of servers strategically located worldwide, ensuring fast and stable connections for its users. This means you can enjoy seamless streaming, lag-free gaming, and uninterrupted browsing, regardless of location.
4. Multiple Device Compatibility
With VPN Proxy Master, you can protect up to 6 devices with a single subscription. The service is compatible with various devices, including smartphones, laptops, TVs, and even Nintendo Switch. This flexibility allows you to secure your entire digital ecosystem.
These are just a few of the features and benefits that VPN Proxy Master offers. With its commitment to continuous improvement and innovation, this VPN service is constantly evolving to meet the ever-changing needs of its users.
Reflecting on the journey and looking forward to a bright future
As we celebrate VPN Proxy Master's anniversary, it's important to look back to the incredible journey this VPN service has undertaken. From its humble beginnings, it has become one of the leading virtual private networks globally, trusted by millions of users worldwide. The commitment to providing strong encryption to secure data online has set VPN Proxy Master apart from its competitors.
Looking ahead, the future of VPN Proxy Master looks bright. With the ever-increasing need for online privacy and security, the demand for reliable VPN services will only grow. We will dedicate ourselves to improving and innovating, setting new benchmarks, and redefining the landscape of virtual private networks.
Therefore, let's toast VPN Proxy Master's anniversary and celebrate this extraordinary journey. Let's now join the feast and take advantage of these limited-time exclusive promotions and discounts.