Blog
Ultimate Guide to watching ESPN with VPN 2022
Ultimate Guide to watching ESPN with VPN 2022
How-to Guide· 5 minutes
If you have tried to access ESPN while you are traveling abroad then you may have found that it's not supported in the country that you are visiting. It can obviously be extremely frustrating. Unfortunately, live streaming with ESPN is unavailable for anyone outside the USA. And regional restrictions apply to those within the US! Even if you are subscribed to ESPN and ESPN + via their cable tv network or a compatible broadband internet connection you can only do so while present in the country. The minute that anyone tries to log in from outside of the US their connection will automatically be blocked as ESPN is unfortunately not supported in other countries at the moment.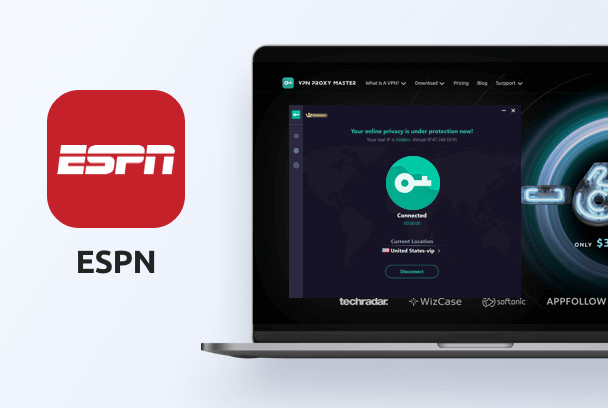 There are obviously ways around international and regional blocking where you can stream ESPN live online when abroad. All you have to do is install a VPN. It will mask your real location so you are able to unblock region-blocked video streams. This is great news for anyone who wants to be able to access their home streaming services while they are traveling abroad!
If you haven't already got a VPN installed on your device and it's your first time choosing one it can obviously become a little overwhelming trying to decide which one to go with! You need one that provides you with fast and reliable streaming speeds, great privacy features as well as great unblocking potential! It's also important that you go with a VPN that doesn't keep any logs as the last thing you want is your personal information in someone else's hands!
HOW TO WATCH ESPN WITH A VPN!
1, First you need to sign up for a trusted VPN service, VPN Proxy Master is highly recommended.
2, You then need to download and install the VPN app onto your device.
3, Next you need to open up the app and select a server location in the US. It's important to ensure that you avoid the blackout region for the team that you are watching!
4, Select the connect button.
5, Lastly all you need to do is open the ESPN stream and start enjoying!
WHAT TO LOOK OUT FOR IN A VPN!
1, It needs to have fast speeds, especially for HD streaming.
2, It also needs a wide range of US servers in order to bypass regional blackouts!
3, DNS leak protection is so important in order to prevent disclosing the users' location!
4, Apps for mobile and desktop are important.
5, It obviously has to be easy to use, user friendly!
6, Great privacy and security features in order to keep you protected while you are online!
VPN PROXY MASTER IS A GREAT CHOICE!
If anyone ever asks me what's the best VPN for streaming I tell them VPN Proxy Master! If you want to enjoy your favorite content without having to deal with constant buffering then it's definitely the VPN for you! With super-fast speeds, you can enjoy your favorite movies and shows in a piece! There's nothing worse when you have sat down to relax and enjoy a Hollywood movie only for it to buffer consistently! Extremely frustrating!
VPN Proxy Master is great value for money. It's also the best at bypassing and unblocking many of the well-known streaming platforms. With no speed limits and bandwidth, it's definitely the best VPN out there! It's available for Mac, Windows, iOS, and android. Let me show you some of the amazing features it has to offer:
1, WiFi security
2, Website unblocking
3, Anonymity
4, Multiple devices
5, Military-grade encryption
6, Browser extension
7, Brilliant privacy and security features
8, Kill switch
9, Ddos protection
10, Split tunneling
11, Doh service
It has an extremely easy-to-use interface so that inexperienced users can comfortably use its service with ease. There's no need to worry if you are a beginner and a non-technical user, you will find it very easy to use! With well over 60 million users across different platforms, it's most definitely worth the money! It also provides unlimited access with up to 6000 different servers across well over 40 countries. You are able to enjoy a fast and secure connection absolutely everywhere without any limitations and without experiencing any buffering.
With military-grade encryption you are provided with a secure tunnel between your device and the internet, this ensures the protection of the users' privacy as well as their online security. Let's be honest with ourselves, we don't really protect ourselves when we are online! You hear about hackers intercepting people's devices etc but you never think it's going to happen to you, it's simply something you hear about nothing more! Well, you should most definitely start thinking differently! We are all at risk when we use the internet without protection!
Yes, a VPN is wonderful for streaming but most importantly it's the best way to protect yourself! Do you realize what someone can do with your IP address! They can gain access to all of your personal/sensitive data as well as the fact they can find out where you live! Do you really want to have to pick up the pieces just because you weren't protecting yourself on the internet!
VPN Proxy Master is a definite must-have! You will be completely protected at all times whether you streaming or simply browsing the internet! You don't have to worry about who is out there trying to target you because while using a VPN you basically invisible!
So go and install VPN Proxy Master and sit back and enjoy all of the amazing sports events that ESPN has to offer! Whether it's college football, college basketball ball or international soccer matches, you can rest assured that you can watch it all with complete peace of mind that not only will you not experience any buffering, but you will also be undetectable to all of the hackers out there!