Blog
Ultimate Guide to watching DAZN with VPN 2022
Ultimate Guide to watching DAZN with VPN 2022
How-to Guide· 5 minutes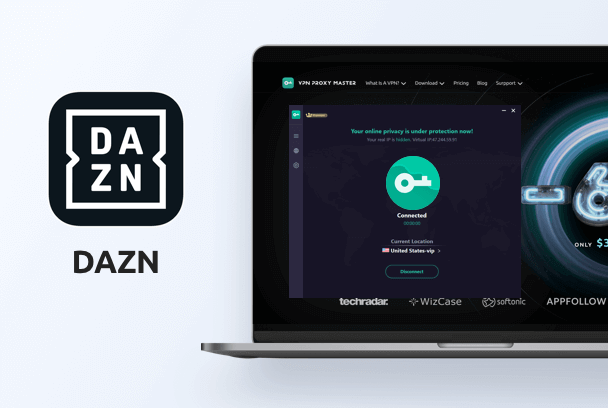 DAZN'S POPULARITY!
A lot of people absolutely love what DAZN has to offer however it can be very frustrating not being able to access games that are available in other countries and not in yours! The best way to unblock all of DAZN's libraries is of course with a VPN! A VPN will hide your IP address and mask your true location, this of course tricks streaming platforms into thinking that you're browsing from a different country when in fact you're sitting at home comfortably on your sofa!
RESTRICTED CONTENT!
Unfortunately, DAZN restricts the content that you are able to watch based on your location! This is due to licensing obligations! This, of course, means if you are travelling to a different country you won't be able to see your country's games! If you attempt to stream in your own location DAZN will of course block you from watching content available in other regions! That's where the magic of a VPN comes in! Your IP address is hidden and your true location is masked!
WHAT CAN YOU WATCH ON DAZN?
Here is what content you can sit back and watch on DAZN!
1, Football/Soccer - UEFA Nations League, UEFA Champions League, UEFA Europa League, Premier League, English Football League, La Liga, FA Cup Final, Scottish Professional League, Bundesliga, Ligue 1, Serie A and Serie B
2, Basketball - NCAA & NBA
3, American football - NCAA & NFL
4, Baseball - MLB
5, Ice hockey - NHL & KHL
6, Motorsport - Moto Go & Formula One
7, Tennis - WTA, ATP 250, Fed Cup and Davis Cup
8, Rugby six nations - European rugby challenge cup & premiership rugby
9, Combat sports - Bellator MMA, UFC, match room boxing and golden boy
10, Professional wrestling - WWE
11, Cue sports - snooker
12, Darts - PDC televised darts events
13, Cricket - ICC champions trophy
As you can see DAZN covers everything! All of your favourite sporting events under one roof, what more could any sports fan possibly want! It has sports content for everyone, whether you a huge basketball fan or a die-hard snooker fan, you will find everything you need!
WHAT DO YOU NEED TO LOOK FOR IN A VPN?
1, You most definitely need lightning-fast speeds! This is so you can watch DAZN without any interruptions!
2, A variety of servers to access DAZN from anywhere!
3, You want a VPN that is compatible with at least Mac, Android and iOS devices!
4, A reliable and trusted VPN! Preferably one that offers a 30-day money-back guarantee!
5, You need a VPN that offers amazing security and privacy features!
Like a lot of the major streaming platforms, it of course has strict geo-restrictions hence why you need a reliable VPN to have full access to it! In order to access DAZN from absolutely anywhere all you have to do is follow these easy steps!
1, Firstly you will obviously need a VPN, one that unblocks most of DAZN's libraries, including those that are in the USA, Japan, Italy, Spain and Germany! VPN Proxy Master is the best!
2, You will need to connect to a server in your targeted country, DAZN has some of the strongest geo-blocks therefore if the first server that you try doesn't work right away then you will need to try clearing your cache and cookies, or even try switching to a different server altogether!
3, You can now start watching all of your favourite sports events on DAZN! Log into your account as usual and enjoy!
NUMBER ONE VPN!
VPN Proxy Master has absolutely everything that you need in order to have an amazing streaming experience as well as keep you protected at all times it's most definitely the best VPN for streaming too! Due to a lot of DAZN's sports events being loved, it's crucial that you have a VPN with super fast speeds! If you are wanting to watch a live event as well as a playback match at the same time then you certainly can with VPN Proxy Master! You won't experience any drops in picture quality and no buffering whatsoever!
SECURITY & PRIVACY!
Security is also very important, not only when streaming but for all of your online activities! A lot of us are irresponsible and don't take any precautions while we are online! We spend hours and hours online on a daily basis so why aren't we being careful and protecting ourselves!? Do you realise that if someone gains access to your IP address they can actually find out exactly where you live! They can even gain access to all of your personal information which is extremely worrying to know that there are skilled hackers out there that are capable of doing such a thing! VPN Proxy Master has the best security features and will ensure that you stay protected at all times while connected to the internet! You can browse or stream with complete peace of mind that no one can access your IP address or any other personal/sensitive information!
There's no reason not to have a VPN and many reasons why you should have a VPN! VPN Proxy Master in particular! A lot of VPNs claim they ensure super-fast speeds and military-grade encryption but VPN Proxy Master's claims are true! It really is the best out there! If you want to be able to watch your favourite content on any of the major streaming platforms then you need this VPN!
You don't have to miss out on any of your favourite content just because you're jetting off abroad, or just because of geo-restrictions in your region! With VPN Proxy Master you have access to all of the geo-blocked content, there's nothing better than after a hard day's work throwing yourself on the sofa or cosying up on the bed and watching your favourite shows or sports events! Get VPN Proxy Master today and start to enjoy DAZN in a whole different way!