Blog
Ultimate Guide to watching Hotstar with VPN 2022
Ultimate Guide to watching Hotstar with VPN 2022
How-to Guide· 5 minutes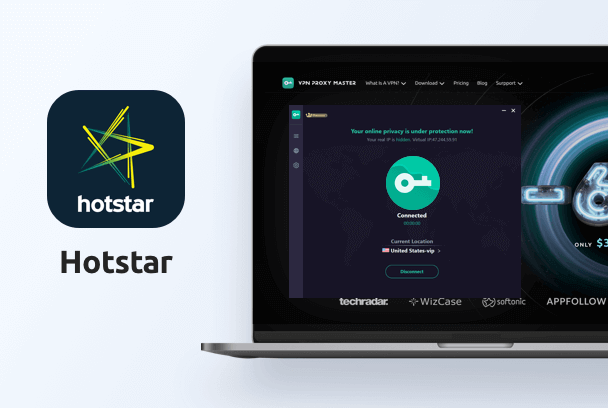 WHAT EXACTLY IS HOTSTAR?
Hotstar is of course another subscription video-on-demand streaming service which based and available in India and owned/operated by star India. Hotstar has great content including film, television and sports. It also shows original programming as well as content from third-party partners such as Showtime and HBO. It operates international versions of its service in the following countries :
This is mainly to target Indians who are overseas! It has the best content for the Indian audience, whether it's Hindi TV Serials, IPL Cricket matches, Cricket World Cup matches, Bollywood movies & Hollywood movies, Pro Kabaddi League, Hotstar has it all covered! Some of the content that it has to offer is actually free which is a great added bonus, as some other streaming platforms don't offer free plans such as Netflix, Amazon Prime and Hulu!
RESTRICTIONS/GEO-BLOCKING
Like other streaming services, Hotstar does unfortunately have geo-restrictions, this obviously means that the Hotstar India app can't be accessed outside of India!
WHY IS IT BLOCKED OUTSIDE OF INDIA?
Hotstar was previously available across various different countries around the world, now unfortunately it's a lot stricter and is only available in India, Canada, the USA and the U.K. only. If you are trying to access it from different countries other than these four then you will receive a message on your screen like this :
OH NO, WE CAN NOT PLAYBACK DUE TO GEOGRAPHIC RESTRICTIONS. DISABLE VPN IF IT ACCIDENTALLY TURNED ON!
HOW TO WATCH HOTSTAR WITH A VPN!
If you are outside of those particular regions then obviously your best option is to use a VPN. Here's how to watch Hotstar from absolutely anywhere with a VPN :
1, Firstly you will need to decide which VPN you want to go with, I would recommend VPN Proxy Master!
2, Next you will need to download your provider's app and install it on whatever device you regularly stream on.
3, Next log in and connect to a server in India.
4, After the above steps you will have to visit the Hotstar website and log in. If you haven't got an account already then you will have to create one. You may need to have a payment method linked to a local address.
5, Lastly you need to try playing a video, normally you shouldn't face any issues, however, if you don't worry, you can fix the most common problems by clearing your cache and cookies as well as refreshing the page.
You're good to go!
VPN PROXY MASTER!
It can sometimes be rather difficult to know which VPN to choose for your first VPN. All you need to do is pick one that does absolutely everything well enough for your exact needs. This is important as you don't want to run a risk by paying for a VPN that only really excels in one area, such as speed or unblocking ability, you need all that of course but there are other things to consider when deciding on the right VPN!
1, Needs to offer at least one Indian server, but preferably more.
2, It has to be fast enough to live stream videos without any buffering/stuttering.
3, It will need to be able to unblock Hotstar and similar services from abroad.
4, It's important that it keeps you safe while you are online. It will need to have advanced security features and a privacy-first logging policy.
5, Provides applications for all major operating devices and systems.
GO FOR A VPN THAT OFFERS A GREAT SERVICE!
VPN Proxy Master offers a great service, it has excellent unblocking ability and speeds that are most definitely fast enough for even HD streaming. It's fast and reliable, it makes it easy to browse and stream securely. It most definitely puts its users' privacy first which is exactly what you want in a VPN. As well as these great features it also has no problems when it comes to unblocking Hotstar abroad, it has all of the necessary tools that are required for you to watch safely. With strong speeds and even stronger unblocking ability, it makes it one of the best VPNs for streaming. There are very few major streaming services that this VPN can't unblock, you are free to watch what you like whenever you're like to!
PROTECT YOURSELF AT ALL TIMES!
Not all of us take the necessary precautions that we need to in order to protect ourselves while we're online, it's so important to take care while doing anything online, hackers and third parties are basically sitting waiting to gain access to your personal information so don't give them that opportunity! Protect yourself with VPN Proxy Master! For me personally, I see being able to stream in different counties as a bonus when it comes to a VPN, security and privacy for me are number one and VPN Proxy Master has it all!
Don't be foolish and continue to go online without being protected. If you are a streaming addict or just a web addict in general then you should most definitely have a VPN installed. There's no reason not to! All of the benefits previously listed are just a few of the advantages. There are many more advantages to having a VPN, especially if you have your whole life on your device for example your banking apps, your email account, personal work info, and even pictures and videos of friends and family. All of these things are personal and for anyone to gain access to them would be catastrophic!
Avoid ever having to think about something like this happening and get yourself VPN Proxy Master today! It's easy to install, easy to use, and great value for money. You can start streaming with ease and peace of mind that not only can you enjoy your favorite content you are also completely protected while doing so!