Blog
Master's gifts on Easter Day - more protection and Easter offer
Master's gifts on Easter Day - more protection and Easter offer
Updates & Events· 3 minutes
Updates & Events
3 minutes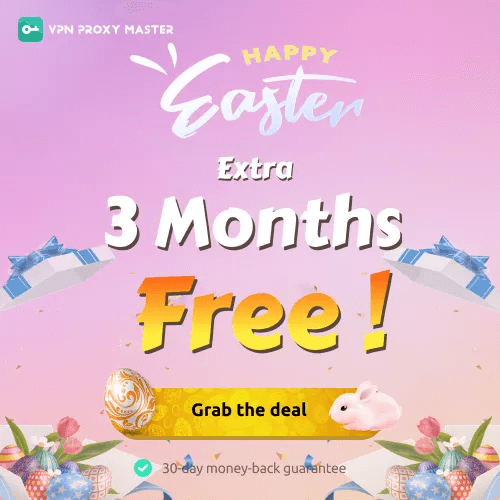 Happy Easter everyone! VPN Proxy Master wishes you and yours a happy and safe holiday. Let's see what VPN Proxy Master has hatched for you this Easter!
Online Security&Privacy
In recent years, there are many thieves stealing customer social security numbers from corporations' computer systems. In addition, Unscrupulous hackers grab passwords and personal information from social media sites or pluck company secrets from the cloud. An increasing number of cybercriminals are behind the screen to steal personal information and violate personal privacy. Therefore, under this situation, people's demand for online security and privacy is becoming much stricter.
However, you can forget the fear of being hacked or censored this Easter since VPN Proxy Master will protect your cybersecurity! There will be no more cyber depression, just the peace of mind and unrestricted internet with VPN Proxy Master.
VPN Proxy Master is a reliable VPN service that provides the following features:
Hide your IP and browser anonymously
Firstly, by connecting to VPN Proxy Master, you can hide your IP address and location. VPN Proxy Master has over 6000 secure servers across over 50 countries and will not record your VPN browsing activities.
Secure your devices
Secondly, VPN Proxy Master uses strong 256-bit encryption to protect your data. Your passwords, emails, bank details, and other sensitive information are protected even though you are using public Wi-Fi from airports or cafes.
Access all geo-blocked content
VPN Proxy Master helps you to bypass geo-blocking so that you can access restricted online content including websites and apps. Get full access to Netflix, Disney+, Instagram, Twitter, or binge-watch BBC. The possibilities are endless!
Avoid spying and throttling
Further, VPN Proxy Master protects your privacy from hackers. With VPN Proxy Master protecting your online activity, no one can read or access your data. Your browsing activities, video streaming, and web history are private at all times.
VPN Proxy Master is available on multiple devices including iOS, Android, Mac, Windows, TV, etc. and can be used for business, education, holidays, and entertainment. It's time to pay attention to your online security and privacy. No more hesitating! Get VPN Proxy Master right now!
Easter Offer from VPN Proxy Master
Wait! VPN Proxy Master prepared an Easter offer for your cybersecurity! Get extra 3 Months Free and save 62% on a 1-Year Plan while subscribing and start protecting yourself on the Internet. Don't miss this limited-time offer, click to get your Easter Day Offer now!
Besides, VPN Proxy Master also launched an Easter campaign on Facebook, Instagram, and Twitter. It's called "MasterUGC". During the Easter holiday, anyone who posts on social media any positive content about VPN Proxy Master (including your feelings about using it, the introduction of its advantages, stories about it, etc.) will have a chance to get another Easter offer - a FREE 3-MONTH VIP TRIAL (3 winners in total). So don't skimp on words! Share your stories or any experience about VPN Proxy Master on social media! Check out our social media for more content. Join the campaign and get the offer!
Don't forget to share the Easter Day offer and the UGC campaign with your family and friends and show them you care for their online existence.
Happy Easter Everyone!