Blog
Is someone spying on your phone?
Is someone spying on your phone?
Cybersecurity· 7 minutes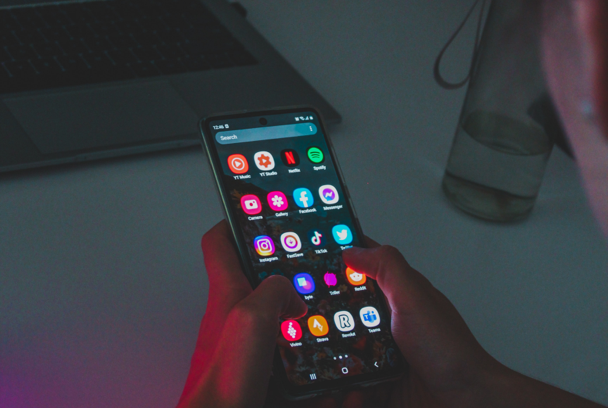 Smartphones are currently used to perform many activities besides calling and text messaging. For instance, you use your phone to play games, take photos, make videos, check the weather, or just for browsing. In other words, the extent to which you can use your device is limitless. So, this brings us to the question. Is your smartphone safe from online surveillance and spying?
There are many techniques and rampant malware that anyone can use to hack into your device. That is, surveillance programs by state and non-state actors are trying to gain access to your mobile for many reasons. The purpose is to monitor your calls or location for surveillance and tracking.
No one can imagine parting with smartphones as our daily lives revolve around them. The better option is to secure your gadget and identify abnormal activities in the mobile operating system. It will keep you one step ahead of someone who is trying to unethically access your device.
How could you tell if someone is spying on your phone?
Mobile spyware is usually hidden inside your device. Thus, such a spyware is difficult to detect. However, different bugs and glitches can give it away. You can get suspicious that some might be spying on you through your cell phone. You can look up these signs on your device to avoid spying.
Excessive battery drainage
The sudden battery drainage is usually an alarming sign in this situation. Mobile batteries generally lose their capacity over a period of time. So don't get alarmed too quickly over it. We use many social media applications on our cell phones. They can also lead to a sudden battery deterioration. But, you can check for any suspicious application that might be consuming more power. Spyware works in the background and uses up the battery without your knowledge.
Mobile phone getting hot
If your phone is getting hot, it can be an indication that your phone is compromised. It is a sign of alarm particularly when you are not even performing any activity. There is a chance of spyware running on your device without your knowledge. Under such circumstances, you can check your device for malfunction or suspicious applications.
Extensive data usage
Another sign that your mobile is hijacked is the excessive use of mobile data. Malicious software sends your information to C&C server of the culprit. A sudden surge in data usage might be because your device is infected with spyware. You can identify this anomaly by monitoring data usage on your device.
Unknown installed applications
Mobile Spyware is normally very sophisticated and works in the background. However, sometimes perpetrators use parental controlling apps to spy on other people. You can search your mobile for applications like Norton Family, Net Nanny, Kaspersky Safe Kids, etc. If you find one of these installed on your device. There is a chance someone might be spying on you if you don't remember installing them.
Device showing activity in standby mode
Your phone might be infected if it's showing strange activity during standby mode. Take this as a sign if your devices show activities apart from receiving calls and messages. Other abnormal signs include a longer time to power off or on your cell phone.
Receiving Odd and Suspicious text Messages
You can check incoming and outgoing messages to identify any malware working on your device. Someone might be spying on your activity if you find an unfamiliar outbound message. Spywares like Cerberus send coded messages and commands to infect your device. It also regularly receives the required information from your phone.
How can others spy on your phone?
Hackers use different techniques to access your cell phone. The tactics let them get your pictures, take screenshots, control your camera, and more. Some of the methods are technical and paid like Pegasus software. While other applications are free and simple to use such as Qustodio and KidLogger. Digital spying with stalkwares makes illegal camera access a piece of cake.
There are a plethora of smartphone surveillance applications that hackers use. Most of the time, a stalker requires physical access to install malware on your device. Once installed, the spying app works completely out of plain sight in stealth mode. mSpy, uMobix, eyeZy, XNSPY, and mobilespy.at are among a few mobile spyware. The worst-case scenario is if a hacker installs malware on a jailbroken iPhone or a rooted android device. The third party can take over your microphone or webcam. It can even monitor and record your incoming and outgoing calls without your consent.
Phishing
Phishing is another way to hijack Android and iPhone devices. In this case, you receive a malicious link sent by a spy. Clicking on a link makes your devices vulnerable to tracking and monitoring. Social engineering is also a dangerous tactic of espionage. Firstly, an attacker convinces you to share your smartphone. It utilizes this opportunity to skim through your device content. It won't fail to install spyware within that limited time.
Many spyware, like mSpy, use google, or iCloud accounts to share information with a third party. Let's say someone gets physical access to your smartphone. Culprit purchases a mSpy software license and installs it on your android phone. However, your iPhone can be accessed if someone gets hold of your iCloud credentials. Once installation is complete, they can log in to the spyware. start accumulating your information.
How does spyware harm you?
Spyware harms you by jeopardizing your smartphone's privacy. Decisive phone spyware, like Pegasus, keeps records of all activities of its victims. It runs in the background and relays your personal information to third parties. The hacker can access your messages, intercept your calls, images, videos, etc.
Hacking is an illegitimate way to make your smartphone vulnerable to data theft. Many actors use such practices to access your private information for their personal gain. Besides privacy breaches, malware slows down your device. It reduces phone performance and affects your mobile network. Phone malware in smartphones can lead to device malfunctioning as it slows down and heats up your device quickly. At this point, you might be thinking about how you can secure your information and device from all these threats.
Get protection with a VPN
Keeping a strong password to unlock our device is a primary security protocol that all of us should follow. Using a Virtual Private Network (VPN) proxy is an effective way to protect yourself from cybercrimes and unethical surveillance. VPN does not prevent stalkware from getting installed on your device. However, it hides your IP address, channels you online through an encrypted tunnel, and hides your geographic locations. An effective VPN proxy is fast, reliable, and secure.
Its features include a built-in ad blocker and anti-malware to protect you from cyberattacks. That way, it can not send malware to your device online. It is helpful if your Google and iOS account login credentials are known to the hacker. Secure VPN uses many VPN servers of your choice and hides your online presence. VPN Proxy Master offers these features to secure your phone from security breaches.
Conclusion
VPN Proxy Master effectively encrypts your data and has ultra-fast speed. Users can choose from more than six thousand global VPN servers from more than 50 geographical locations worldwide. You can buy a single subscription and use it on 6 devices at a time. That includes Android, Mac, iOS, Windows, etc. Other features include AES 256-bit encryption and DDoS protection. Lastly, you can buy a premium proxy plan with a money-back guarantee within thirty days. The easy-to-use proxy is perfect to protect your smartphone from phishing and malware attacks.
The security of your smartphone is paramount in the digital era. Especially, when lethal Spywares are extremely hard to detect once installed in your device. You are also exposed to online threats from online credential thieves and hackers. Therefore, securing your cell phone with a VPN proxy particularly safeguards you from such threats. It also keeps you anonymous online. Bottom line is, investing in the premium VPN proxy package will keep your device working at optimal speed. Such practice will help you avoid online tracking threats.