Blog
8 Tips to Improve Internet Speed for Gaming
8 Tips to Improve Internet Speed for Gaming
VPN Tips· 6 minutes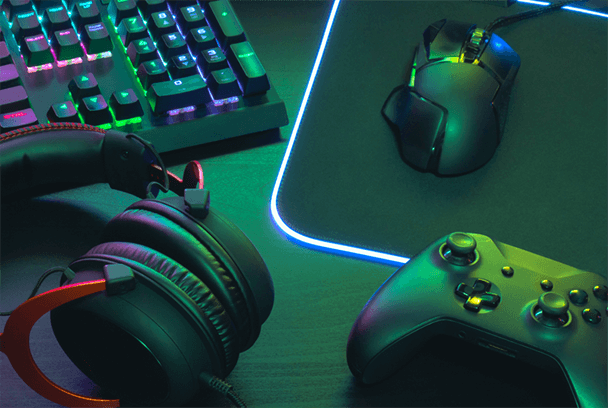 WHAT EXACTLY IS CLASSED AS A GOOD INTERNET SPEED FOR GAMING?
Online gaming is extremely popular and has been for quite some time, probably even more so since the pandemic hit hard. Now more than ever we are stuck at home bored with nothing to do. Every day feels like Groundhog Day! It's the perfect group activity that you can be involved in and all from the comfort of your own home. That provided of course that your internet speed is fast enough as gaming requires fast speeds in order to be able to play without any interruptions!
HOW MANY MBPS DO I NEED?
It actually depends on your console as well as the type of game that you playing. Below are the general guidelines which have been provided by many different ISPs and tech experts.
THE ABSOLUTE MINIMUM INTERNET SPEED FOR GAMING!
upload speed - 0.5 - 1mbps
ping rate - less than 150ms
THE ACTUAL RECOMMENDED INTERNET SPEED!
download speed - 15 - 25mbps
ping rate - less than 50ms
DOWNLOAD SPEED, UPLOAD SPEED & PING RATE EXPLAINED TO YOU!
Any die-hard gamer will tell you that internet speed is everything. The smoothness of your online gaming completely depends on your internet bandwidth which Indicates the maximum amount of data that you can download and upload at any given time. Internet bandwidth measures how much data your internet connection can actually handle.
It's calculated in Mbps which stands for megabits per second. It's really quite self-explanatory. It basically shows how many megabits per second you can download or upload!
'Ping rate' dehorn also known as latency is measured in ms (milliseconds). It displays how long it actually takes a data packet to travel from its source (which could be your console!) to the destination (game server) and back again to your games console!
Basically, the ping rate shows just how quickly the actions that you take show up on your screen. Say for example your ping rate is 27 milliseconds, which means it takes 27 milliseconds for your character to the shoot-in game, this is after you press down the left button on your mouse!
Say you are playing an important match on League of Legends, or you need to be running smoothly for an exciting battle royale in Fortnite or PUBG life, lower ping is of course desirable!
Bandwidth is the amount of data that is sent per second and the ping rate is the amount of time that information takes to travel.
If your ping is very high a lot of games will actually register other players' moves first! This means you could possibly suffer a headshot even before you get a chance to react!
In regards to ping rate here is some useful information for you!
less than 50 ms is extremely good
less than 100ms is average
150 ms is the threshold at which lag problems start.
anything above 150ms is a definite lag!
HOW MUCH INTERNET SPEED DO YOU NEED FOR THE PLAYSTATION 4?
Here are the minimum requirements.
ping rate - less than 150ms
On the PlayStation support page, you will see that the page only provides the recommended download and upload speeds. Basically, the recommended ping rate is based on general guidelines.
HOW MUCH INTERNET SPEED DO YOU NEED FOR THE XBOX ONE
Here are the minimum requirements, these are according to Xbox's support page.
ping rate - less than 150ms
The recommended requirements:
download speed - 15 - 25mbps
ping rate - less than 50ms
Unfortunately, Xbox does not provide an exact recommended internet speed for gaming, these numbers are actually based on general guidelines.
HOW MUCH INTERNET SPEED DO YOU NEED FOR THE NINTENDO SWITCH?
Minimum requirements:
ping rate - less than 150ms
If you go on to Nintendo's support page you will see that all that is provided are the minimum download and upload speeds, the minimum ping rate is also based on general guidelines.
Recommended requirements:
download speed - 15-25mbps
ping rate - less than 50ms
Again Nintendo doesn't provide any recommended requirements for internet speed, the numbers are only based on general guidelines!
HOW MUCH INTERNET SPEED DO YOU NEED FOR P.C OR MAC?
Minimum requirements:
upload speed - 0.75-1mbps
Recommended requirements:
download speed - 15-25mbps
ping rate - less than 50ms
Remember these specific numbers are based only on general guidelines. Of course, your experience will vary depending on your computer and the game that you're playing!
OTHER FACTORS THAT WOULD IMPACT YOUR ONLINE GAMING EXPERIENCE!
It's important to know that finding out just how many Mbps you will need for online gaming isn't exactly an exact science. It will obviously depend on the internet usage in your household!
Say for example there are 3 members of the household who are serious gamers and play their games at the same time, your bandwidth needs to multiple by 3!
If there are family members downloading huge files or streaming videos in the middle of your game then your ping will increase rapidly!
Absolutely everything in your household can affect your bandwidth. If there are too many shared connections this will prevent you from achieving a great download speed for gaming!
Hackers specifically target gamers, this is because gamers rarely ever employ basic cyber security measures. They can take over your accounts, spy on your private chats, reuse your log-on details as well as break into other accounts too! What's worse, they even go as far as selling people's details on the dark web! They will stop at nothing to get what they want!
HERE ARE 8 TIPS ON HOW TO IMPROVE YOUR ONLINE GAMING CONNECTION!
1. Wired connection
If you use an Ethernet cable it will normally provide you with a faster and more reliable connection!
2. WiFi extender
Try putting your console closer to the router or you could even purchase WiFi extenders as they will boost your signal!
3. Secure your WiFi
Anyone could be connected to your network which will of course slow you down!
4. Use a VPN
A premium one will actually decrease your speed by quite a lot! It is a possibility that your ISP could reduce your connection based on what you're doing online. Bandwidth throttling is very frustrating but doesn't worry as a VPN can actually prevent it. VPN Proxy Master is a good choice for you. If you like you can also set up a VPN on your home router, this will secure all the traffic on all of your home devices.
5. Free up your bandwidth
There could be some apps or web pages that are using up all of your bandwidth, just close them while you are gaming!
6. Reset your router
It's important to do this as it will keep it running at optimal performance!
7. Adjust game settings
All the wonderful visuals can take up a lot more of your bandwidth. Change the graphics a little if the game isn't running smoothly. There are certain games like Minecraft and Roblox that won't run into this issue!
8. Upgrade your internet connection
Purchase a new internet plan or a new router! You could even upgrade to fiber optic internet which will most definitely improve your overall gaming experience!